Mechanical Mouse Organ
Mechanical Mouse Organ's musical heritage stretches back to the early nineties and a band called Hug.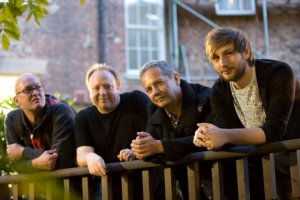 In the wake of the Madchester boom, Hug were part of a wave of bands who took Tyneside by storm with an explosion of creativity centred around the legendary Riverside club. Hug were ranked as a top tip for 1991 by the NME, alongside the Manic Street Preachers and Ocean Colour Scene. They released 3 e.p.'s & an album on Kitchenware records, toured with New FADS and Pavement and recorded sessions for Mark Radcliffe and Radio One's Evening Session.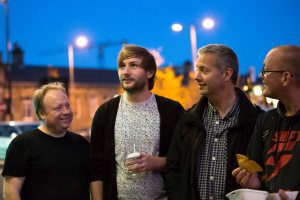 They split in 1994 but reformed briefly in 2011 to play three sell out gigs and record a new e.p. The reunion was temporary, but the chemistry endured and drummer Dave Curle, bassist Liam Gilfellon and guitarist George Kitching started writing new material together. To recruit a singer they looked no further than Liam's nephew, Darryl Todd, an accomplished vocalist and guitarist who had built a following in the North East both as a solo artist and with his former band Dead Miles. Darryl's presence helped push the band in a harder-edged direction, mixing classic and alternative influences, ranging from the Who to the Wedding Present, Hendrix to the Raconteurs, the Beatles to Dinosaur Jnr.
The band released their debut album, Get Over It in July 2015. It garnered very positive reviews. The Sound of Confusion called it "a powerpop album overflowing with potential singles" and later named it among their top twenty albums of the year. NARC magazine, described a "a vibrant fusion of rough and ready rock and roll, bursts of punky energy and a layered and visceral edge", while NE: MM declared "it's not overstating it to see this as 'where have you been all my life album'". Tasty Fanzine stated, "(the) stand out track is the Blondie-esque 'It's Just Love'. With lyrics worthy of Squeeze and a passionate vocal trembling like Fergal, it's a hit!".
In the two years since its release, the band have been honing their live sound and refining their song writing. The result is a raft of strong new material, due to materialise in 2018 as a succession of e.p.'s. The first of these, All the Love (Nobody Wants), was released on March 2nd. The second, Emily Rains, comes out on June 22nd.
Check the schedule below for upcoming gigs.
Upcoming Gigs