History of the Overspill Poets
Purveyors of defiantly British flavoured alternative rock and driving alt country jangle, Overspill Poets were first conceived in a Tyneside flat where guitarist George Kitching and singer Tim Taylor filled the hours between delivering sandwiches to office workers and watching endless re-runs of Auf Wiedersehen Pet with spirited impromptu jams. But a long gestation followed, as the founder members initially embarked on separate musical paths.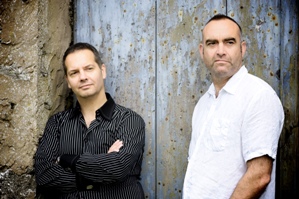 Taylor earned a reputation with unplugged residency at a city centre bistro nestled between St James Park and a Hare Krisha temple. Here he regaled late night revellers with reworkings of REM and Elvis Costello classics and full blooded assaults on the Beatles back catalogue. However, given his readiness to accept Guinness in lieu of payment, he was prone to segue wildly from a Hard Day's Night into Revolution No 9, visiting Piggies, Why Don't We Do it In The Road, Wild Honey Pie, the Play School Clock theme and a Mike Harding ditty about the sexual proclivities of the upper classes en route. To be honest, this bemused the majority of punters, but not so, George and Giles Martin who may or may not have popped in for a Tiger Prawn Jambalaya and left with the inspiration for the Love album. According to Taylor, the Martins became frustrated at their own failure to incorporate anything beyond the Beatles and scaled down their ambition, refusing to credit his influence. For their part, the Martins refute this, denying all knowledge of Taylor, even claiming to dislike prawns.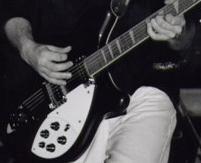 Meanwhile, Kitching, described by an anonymous reviewer as "the foremost guitarist of his generation" (and by a former bandmate as "a dangerously deluded meglomaniac with a penchant for engineering his own reviews"), was cutting his musical teeth with Kitchenware outfit Hug. Described by the NME as one their top tips for 1991 (which just proves you shouldn't believe anything you read in the NME), Hug blazed an innovative trail from a Byker rehearsal room to the threshold of mainstream success, then all the way back to the Gateshead DHSS where their valiant efforts to elude more gainful employment were finally crushed. No doubt fearing civil unrest at such a travesty, the powers-that-be did all they could to erase Hug from the collective memory, even demolishing the Riverside club where they began and ended their career. But their spirit survived and recently took up residence at
www.myspace.com/hugnewcastle
.
What happened next is unclear. Kitching was reputed to have stepped out to get a Sport and Chronicle and never returned, while Taylor, who always trod a fine line between fiction and reality is believed to have spent time laying bricks in Dusseldorf before being arresting in trout tickling incident. What is known is they reunited in 2003 to form the West Bromwich and District Sunday Methodist Table Tennis League as a poignant statement on democracy.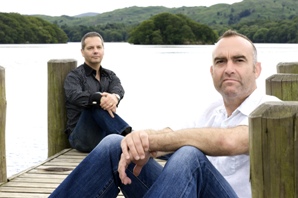 However, a dearth of talent and lack of a proper net saw interest dwindle and their attention soon turned from political ping pong back to pop music. A move bolstered by the musical pedigree of the three other remaining members. Bassist Kelvin Fendig, keyboard player Elaine Surtees and drummer Terry Leather had all enjoyed local acclaim as members of West Midlands seminal Country & Western outfit, Thick Grass, before prolonged exposure to undiluted honky tonk caused them to grow udders.
Following surgical rehabilitation, Fendig, Surtees and Leather embraced rock & roll with conviction and the League emerged with a warmly received gig at the Barber Green Bowl. Soon afterwards they moved into a makeshift studio in a walk-in wardrobe above Migginson's pie shop to begin work on a debut album. Despite his advancing years and inability to play in stereo, Leather coped admirably at first, but the cramped conditions and relentless pie eating eventually took their toll and he was forced to retire to Marbella to live off the proceeds from his former career as a Great Train Robber.
In 2006, Migginson's, described by almost everyone as "the foremost pie shop of its generation", reclaimed the wardrobe as a pastry store leaving the League homeless, drummer-less and disconsolate. With only a handful of unfinished tracks in the can, the future looked bleak, but when the vacant drum stool was filled by the sprightly McGurk , the rejuvenated League morphed in to the Overspill Poets and recording resumed
In a spirit of irrepressible self sufficiency (and because they figured no-one else would have them) the Poets have set up their own label, Revenge Western Records (named after an ill-judged amateur dramatic misadventure of Fendig's). Overspill Poets' debut album, Thompson Falls is out now.
Click here to listen to the songs (free music streaming from Reverbnation) and read more about the album
Words: The Banquo Kid
Overspill Poets Photos: © Steve Barber
Stage Photos: © Sandy Kitching