HUG - Biography
"December 1990 and six of the region's bands played on the same bill at Riverside. Despite bad weather over 600 people turned up and in a heady atmosphere, the feeling that Newcastle could no longer be overlooked as a musical force was in the minds of the majority... "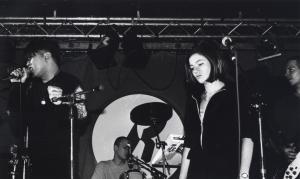 Thus wrote Kriss Knights in Newcastle's Paint It Red magazine in the Spring of 1994. Sadly, Kriss was looking back at the Riverside Not The Yuletide Festival, four years earlier, to fill in the back story to the event he was actually reviewing - Hug's farewell gig. His review continued...
"One by one these bands left the struggle or simply vanished. The last of the six - road weary, bruised but seemingly undaunted was Hug. They released a mini-album, Hummana, of staggering quality and played some notable gigs with an impressive list of established acts. Now all they needed was a bit of luck. This year they released the Firebrands EP which apparently failed to get playlisted only because TC Hug had been single of the week on Radio 1 the week before. Firebrands was their last bullet and they effectively threw away their gun and holster with a couple of scratchy shows in Newcastle to dwindling support.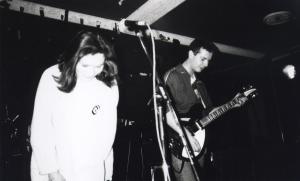 On 20th May (1994) they burnt brightly one last time - and died. A crowd of familiar faces turned up determined to enjoy the wake. The band played every song from their history they could remember, with the exuberance, passion and charm that made them so damned worthwhile in the first place. Former DJ Adey turned up to set us, 'going like a fat gold watch', one last time. Liam hammered out the bass lines, Dave slammed the drums, George weaved the understated but essential guitar sound and Ken barked his bark, rattled his rattly thing and twanged his guitar as only Ken can. Gemma, voice straining against the maelstrom, swigged booze and traded remarks with all and sundry, 'I always hated you lot. you fuckers!' she annnounced with a wicked grin at one point - defiance and attitude that the traffic reports on Radio Newcastle have always been sadly lacking. What can be learnt from the demise of yet another bloody good band is anybody's guess but this much I can say - knowing Hug the band and Hug the people, has been an absolute pleasure."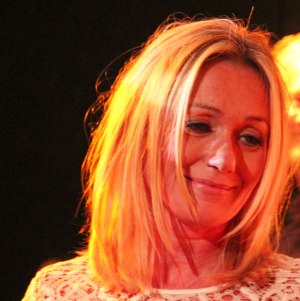 Happily, there is a postscript. In 2011, ex-HUG members rediscovered some old demos that suggested they were perhaps at their creative peak when then split. They decided to return to the studio to record them properly with drummer, Dave Curle at the helm. Dave has spent the intervening years building a solid reputation as a sound engineer and producer, numbering the Futureheads, Lauren Laverne, Moz Eisley and Maximo Park among his clients.
Meanwhile, Hazel Plater and Carl Richard Taylor had written a book about the now long-gone, but sorely missed Riverside club and they invited HUG to reform to play at the book launch along side fellow stalwarts of the early nineties Tyneside scene, Puppy Fat. Tickets sold out within days of going on sale and the gig was a resounding success. So much so that both bands played follow up gigs, Hug selling out the Cooperage on Newcastle's quayside for a storming Christmas show in December.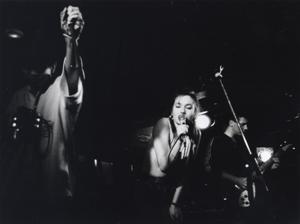 In March 2012, Hug returned to the studio to breathe new life into Clay, Kingdom Come and This Dark Eden. Guitarist, percussionist and Japanese-rapper, Ken Sakamoto, sorely missed in the 2011 gigs due to distance (he now lives in Tokyo), returned to the UK in June and added his guitar parts.
The results are available now, exclusively through this web site, as a limited edition CD also featuring live tracks from the Riverside Book Launch. Click here for details.
Hug played one last farewell Christmas gig to a packed Newcastle Cluny on Sat 15th Dec 2012. Ken flew in especially so the gig featured the full original line-up making the final gig, the definitive one.
Dave, Liam and George are now playing in Mechanical Mouse Organ with Darryl Todd on vocals. Click here for details...
Hug are:
| | |
| --- | --- |
| Gemma Wilson Pitt | Vocals |
| Dave Curle | Drums |
| Liam Gilfellon | Bass |
| George Kitching | Guitar |
| Ken Sakamoto | Guitar, Vocals, Percussion |
| Ade Woolard | DJ |